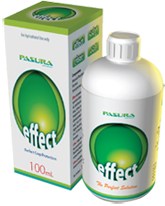 Effect is preventive and early curative broadspectrum disease-controller. It controls viruses viz. leaf curl virus, litter leaf virus, ring spot virus, yellow vein mosaic virus et al., it controls funguses viz. Downy mildew, powdery mildew, alternaria leaf spot, cercosporal leaf spot, die back et al. It controls bacteria viz, bacterial blight, bacterial leaf spot, bacterial spots on fruit, etal. It also controls micro nutrient deficiency deseases.
Effect stops flower shedding and improves the overall health of plants thereby increases flowering that results in considerable enhancement of yield in crops.
Effect provides holistic solution for integrated disease and pest management.


Rate of Application
Dilute 1 ml. Effect in 1 litre of water and spray on crops at intervals of 5-15 days or as recommended.
Available packs: 50ml., 100ml and 250ml.